Original source: star naver


You are watching 'Korean Wave Star' Jang Keun Suk's laughter. This is called a person smiling from ear to ear. He is showing healthy-teeth smile which is not shown often in a year.
Why is he laughing like this? It is because he is greeting the happiest day among the year. Can you see 'Happy 28th Birthday' letters on the cake? Yes, August 4th, the day has come back.



♪ Happy Birthday to you. Happy Birthday to you. Happy Birthday to Jang Keun Suk, Happy Birthday to you (All global fans)

"It's my birthday today. LOL"

"It's too exciting"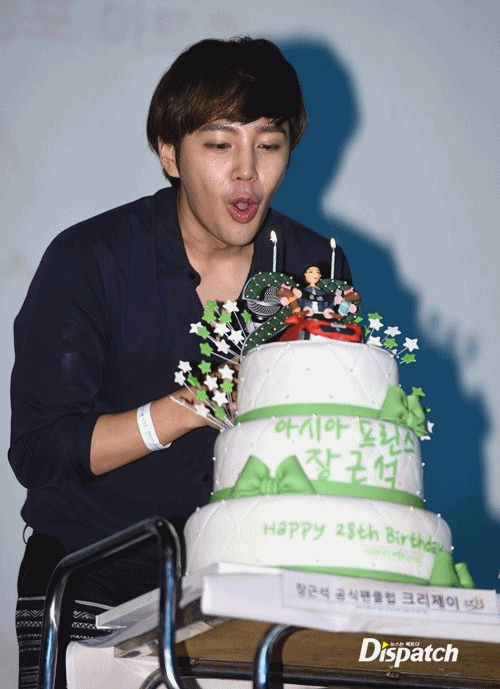 "I'll blow off the candles at once"
We've met Jang Keun Suk at the Art Hall in Yeongdeungpo, Seoul on last 2nd. He was having the open broadcast of ZIKZIN Radio. ZIKZIN Radio is Jang Keun Suk's individual podcast which the name is made from 'zikzin' (Korean: go straight).
The spot atmosphere was hotter than the scorching heat. Photo exhibition prepared by fan club 'Cri J' was opened with the radio broadcast for celebrating Jang Keun Suk's birthday. Fans that gathered were global as Asian prince's fans.


"Came from Japan"

"Arabian eels also came"

Finally, Jang Keun Suk also came. He showed up himself 2 hours before the 'ZIKZIN Radio' broadcast. He has come to appreciate the photo exhibition which the fans had prepared.

The event hall mood was heated with Jang Keun Suk's astonishing appearance. People here and there called out 'Jang Keun Suk' and 'Keun zzang'. Jang Keun Suk responded with hand gestures.

"Eels in good order"

But..

With the real appearance of Jang Keun Suk
They swarmed around to see him.

"Let's see you later, Keun zzang"

Jang Keun Suk photo exhibition is consisted with fan-taken photos, videos, and pictures. This is the 2nd time already. Jang Keun Suk's official fan club 'Cri J' has donated the profit (10 million won) from the first photo exhibition with Jang Keun Suk's name.
Was it due to the meaningful event? Jang Keun Suk looked around the photo exhibition carefully. He didn't forget to leave signatures on photos he liked. He also showed affection by leaving compliments like 'GOOD'.

"This is my fan art"

"Who is he? Haha"

"Really good~"

There was a special movie screening for Jang Keun Suk also. It was an edited image of last year's activities. He earnestly appreciated his image by stopping by and sitting on a chair.

"Watching earnestly"

"Thank you, eels!"

He also took sticker photos this time. Jang Keun Suk tried his best to take photos with the Jang Keun Suk in the machine. He showed off his posing skills that he had developed. He was not awkward in his skills.

"Same pose, different feeling"

"Oh, it's the opposite~"

"Jang Keun Suk VS Jang Keun Suk"

"Did my picture come out well?"

Eels! I, Jang Keun Suk, have come!!"

"I'm going to go for the radio broadcast now~"
After about an hour later….


Finally Jang Keun Suk's 'ZIKZIN Radio' started. Jang Keun Suk emceed the radio this day without special MC invited. Radio broadcast with fans is the first time, right?
"I wanted to communicate with fans at a little theater. There isn't much time to talk with them at concerts. So I did open radio broadcast as I did in China. I feel great that I could talk with many people at a close distance." (Jang Keun Suk)

Jang Keun Suk emceed the radio proficiently. He had time reading fans' stories and sympathizing with them. This day's title was 'birthday' which is a special day to anyone and whoever has.
Wait a while here. Shall we hear about one 'birthday' story?
"I have received global popularity after drama 'You're Beautiful'. Presents arrived as much as it could fill up the office whenever I had my birthday. Ah, fans gave me pet dog, Soonie also. But I want to return fans since I feel that I'm only receiving." (Jang Keun Suk)

He also released the most memorable birthday present. He says it's the 6-floor cupcake which Hong Kong fans have prepared. He says that there was a twist inside it. Pants that fitted right with Jang Keun Suk's size~.

Jang Keun Suk is a customized Korean Wave Star, right? He shook fans' heart with infinite fan service this day. He showed off his charms by doing vocal mimicry and sexy dance.

Fan service 1 "Mimicking eel's expression"

Fan service 2 "Cho Yong Pil's vocal mimicry"

Fan service 3 "SEXY Dance"
Wait a moment here, 'Sexy Back' GIF is released for Eels here~.
5
4
3
2
1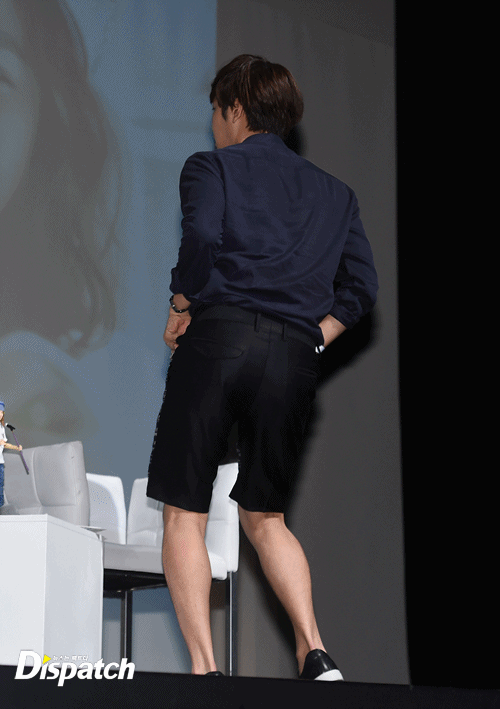 "I'm the very Jangstin Sukberlake"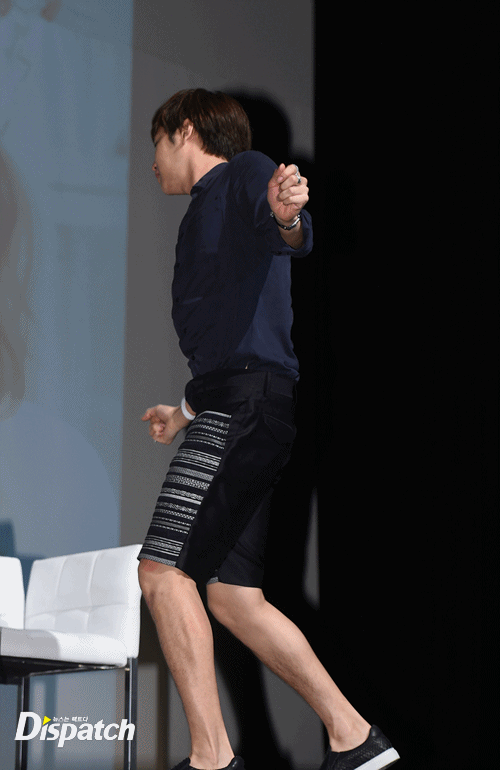 "Back line is yeap~"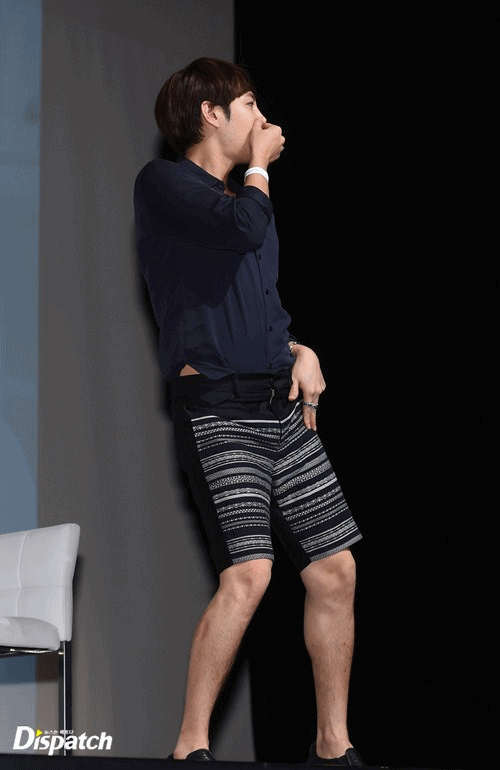 "Yeap by covering his nose~"

Jang Keun Suk's fan service was infinite. He prepared time for fans to experience his 'biceps' and 'triceps' by making them be on stage. So who was the lucky one to feel this?

"Here, touch this thing~"

"Here also~"

"The fan is frozen~"
Finally, the birthday party was also held by surprise. He held the party 2 days before his birthday. He sang the song and blew the candles with global fans. Do you want to know Jang Keun Suk's birthday wish?
"I had wished at the birthday party before 3 years ago to be with these people next year. It seems to be easy, but difficult at the same time. This year's wish is also to be with Eels next year again." (Jang Keun Suk)
He blew the candles and opened presents from fans by himself.

"You've donated books to the elementary school that I've went to"

"What would be inside this big box?"
t was a twist. There was huge seaweed inside it. It is a food which Jang Keun Suk makes often. He says he eat 'sea mustard soup' more than Ramen usually. He says the cooking secret is seaweed and artificial seasoning…

"Fan service in the intermission"

"Do you want historical drama?"

Jang Keun Suk held the 2nd part and even the encore. He communicated truthfully with fans over more than 2 hours. Finally he left birthday anniversary proof-shot with fans before he went behind the stage.

"Please take photo of Eels well"
'ZIKZIN Radio' which Jang Keun Suk prepared and the birthday party ended like this. 'Dispatch' is going to release presents for Eels now~

"If you go to Jang Keun Suk's photo exhibition~"

"There are fan art~"

"His graduation picture~"

"His charm~"

"His flower-like appearance~"

"And scribbles~?"

"Pig…"

"See you next year~"
Writing=Kim Soo Ji (Dispatch)
Picture=Seo Lee Jun (Dispatch)