Original source: Korepo
Photo Credits: KIM SANGDUK / KNTV
Q: In June, 'Beautiful Man (Bel Ami)' will be broadcast on KNTV channel for the first time in Japan. You've appeared on many romantic dramas so far, but what do you think is the most distinctive charm BM has?
The most important thing when I decided to appear on a drama is the character I play. About Dokgo Ma-Te, he associates with 10 women, but he changes how to approach each woman. In early days of filming BM, I discussed a lot with the script writer and the director. When he associates with each woman, he shows a lot of his unique skills. Every time he starts to associate a different woman, he transforms himself into a new personality. His hairdo and fashion style are also changed. When I decided to appear on BM, I thought it would be nice to play this kind of character that can be acted only in my 20s.


Q: As with 'You're Beautiful', there is a lead character like 'Prince' and the process of his growth was depicted in BM. How did you felt about it?
I still don't know what 'Prince' means. But I think pains in the process of our growth will be a big driver of ambition. I think the character who has ambitions in his mind is more attractive. Not his appearance, but something invisible he has matters.


Q: What did you think when you heard costars such as IU, Lee Jang-Woo and Han Chae-Young? I heard that you worked with Lee Jang-Woo in 'Nonstop 4' about 10 years ago and about Han Chae-Young, you established a special relationship with her.
A special relationship? I have no idea. Lol. I was the first person who was cast BM. That's why I made frequent visits to the producer before the shooting started and discussed the scenario over and over. However, casting the lead actress was very difficult. It took a long time. When I heard the news that IU accepted the offer, I really appreciated her. She suited the role. I thanked her choice to be Bo-Tong. She had a nimble wit while acting. She played the role well. I didn't have to give advice to her. About Jang-Woo bro, we reunited after 10 years. I was literally moved. Lol. In entertainment industry, if we are far from the limelight for 10 years, people will think we've faded away. But in our case, we've grown up a lot in 10 years and we worked together as leading actors. It was very nice to work with him again. As he also loves camping, we became close through talking about camping. About Chae-Young sis, we've known each other before BM. I've had a dinner with her. We've talked a lot while filming, but we don't have something special otherwise. Lol.


Q: I understand how fun you were while shooting. By the way, who do you think was a person who inspired others while shooting? Do you have anyone you still keep in tough after BM?
I guess I was the person. Lol. I have a mischievous nature. I like chatting with the staff. I even brought snacks to the shooting site to get close with the staff as soon as possible. In fact, the shooting place was a bit far from Seoul, so there was no restaurants or convenience stores nearby. My fans supported to prepare meals from beginning to end of the shooting. Fans from all over the world made catering arrangements. While eating with the staff, I was so happy. Thanks to them, we had fine meals every day. My camping equipment was in my car when I went to the shooting place, so I used them to cook a ramen or simple meals for our midnight snack. As the shooting was tough, we felt pleasure even in such trivial episodes and became close. After shooting, everyone returned to our own life. Lol.


Q: Bo-Tong that IU played and Yoo-Ra Han that Chae-Young played are opposite types of characters. Bo-Tong is super unique and does stupid things, but she is adorable. On the contrary, Yoo-Ra has a rose-like atmosphere. Which do you choose in reality?
Well… a bit difficult question… but I think Yoo-Ra is more attractive. It doesn't mean I like Chae-Young sis. Lol. No, I like her, but I mean the personality like Yoo-Ra is very attractive. Personally, Jang Keun Suk prefers a woman who is not easy to get, attractive and intelligent. Bo-Tong wears eccentric clothes. On the other hand, Yoo-Ra is stylish. Lol.


Q: What kind of man do you think is a true 'beautiful man'?
Hmm… I think there are two major characteristics. One is the man who can practice self-management. You can take this in a lot of ways, but my definition is the man who has his own style on everything like fashion style, appearance, personality and so on. I mean the person who has his own philosophy, not just to follow what is in fashion. The other is the person who has ambitions inside. We can tell from his eyes. In conclusion, the man who has his own style both on the outside and the inside and who has ambitions in his mind is a true 'beautiful man' for me. In fact, I'm the one. Lol. I'm a beautiful man.


Q: Finally BM is going on air this June in Japan. Then, you'll be back to Japanese TV through BM after a long interval. Please tell us the highlight.
As an actor, I feel very fortunate and happy to appear on an drama. As I originally started working as an actor, playing a new character in front of camera is a great happiness for me. I had a great time while shooting BM. Appearing on BM after a long interval and playing the role of Dokgo Ma-Te gave me pleasure. In addition, it was cathartic for me going through BM, which made me get attached to BM more. The highlight is… I think most of the viewers will be women. There are 10 women that Dokgo Ma-Te seduced appearing in BM. So please imagine yourself in their shoes. Ma-Te is trying to seduce them in various ways. If you watch BM as if you were one of them, you'll enjoy yourself more for sure. Satisfaction by deputy. Lol.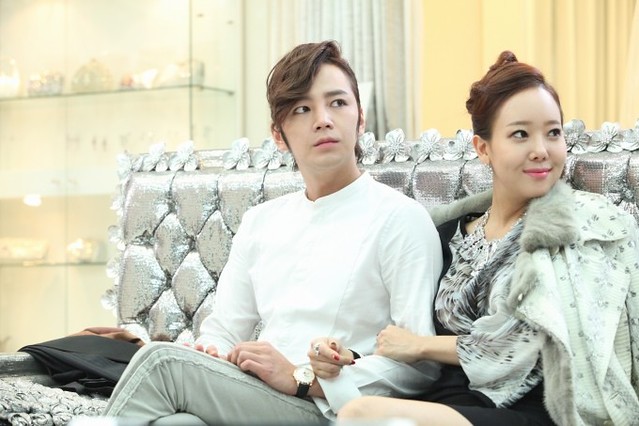 Q: BM fan meeting will be held on July 14th. Any ideas or requests about it?
It was my first drama fan meeting after YAB and 'Mary Stayed Out All Night' FM. Looking back, June means about one year after the shooting started. Time flies. I think at FM I will show you Ma-Te, not Jang Keun Suk. I'll participate in BM FM as Ma-Te. I'm sure we'll have a great time, reminiscing with IU and Jang-Woo bro. Please look forward to the day to come!